Horse's Mind was born out of a hobby of mine. The result of a passion for horses and teaching others. I'm a recreational riding who values good riding skills and having a good connection with your horse. I enjoy spending time with horses, both with my feet on the ground as with me riding on their back, so much so that it has now become my primary occupation.
Follow me on Facebook to see what I'm doing and read the articles I share.
Groundwork & Clickertraining
I will explain you how you can teach your horse various things while you are besides him with your feet on the ground. For this I use the classic horsemanship techniques of pressure and release. To that I add in clickertraining. With clickertraining the desired behaviour gets marked with a specific signal. The horse then knows that after said signal he will get a treat. This technique is an extremely powerful tool to tell your horse what it is you want him to do.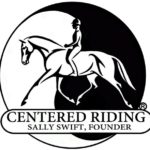 Centered Riding is based on the teachings of Sally Swift. It's an alternative way to give riding lessons where the focus lies on the rider instead of the horse. Through an increased awareness of yourself and your horse, and through the use of imaginary things happening around and in you you will learn exactly what to do with your body and when. This is something "good riders" do out of their own instincts, but is hard to explain.
Since November 2017 I am officially recognized as a level 2 Centered Riding instructor.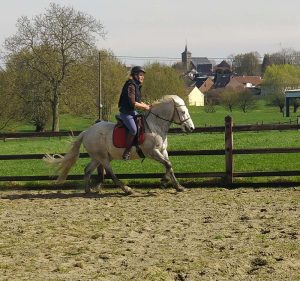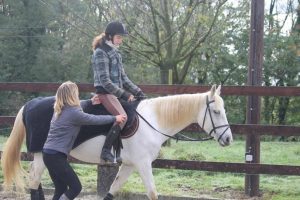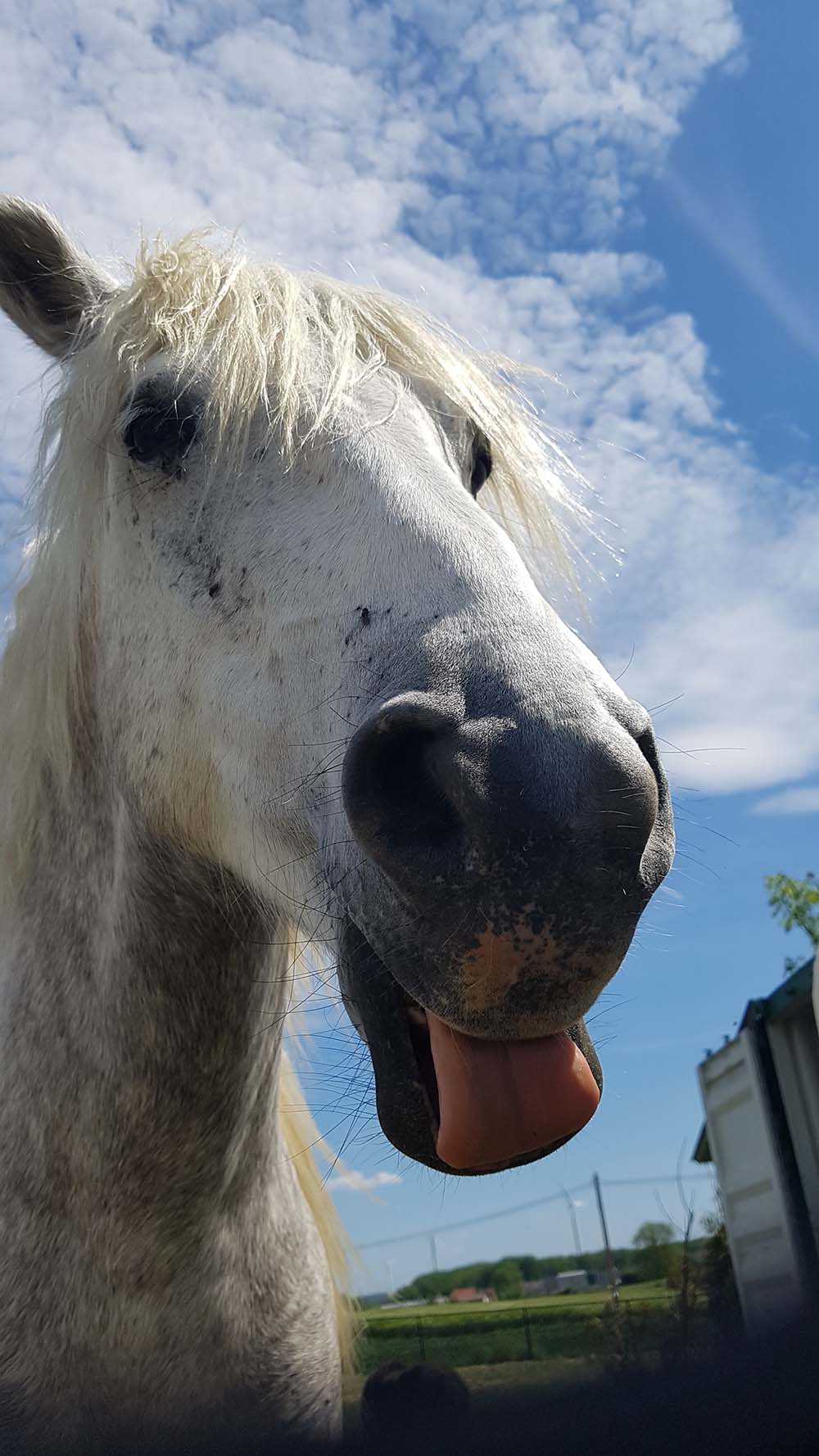 Capitaine
Capitaine du Pous is a horse from the French Camargue region born in 2013. Until he was 5 years old he lived in total freedom in the swamps nearby Arles. Since May 2017 he lives with me.
He was saddlebroken here and together we are discovering the world. He's a fast learner, is very curious and despite the calmth in his head he is pretty forward. An easy horse you'd think, but he doesn't let himself be fooled around : an unfriendly rider will be thrown off without warning. With calm guidance however he will go anywhere for you.
Capitaine was the model for Horse's Mind's logo. His name is in honor of another Camargue horse who was named Capitaine aswell, who played with Fernandel in the film "Heureux qui comme Ulysse".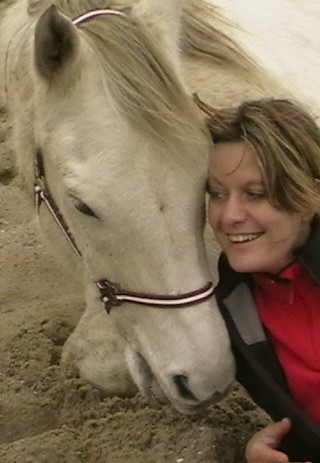 Zenghi
Zenghi is a halfblood Arab horse. born in 1997 and is the reason why I can do the things I do today with horses.
He's is an enormous drama queen, clumsy, hypermobile, and panicky. There was a time where everyone declared me insane for no selling him, especially after he reared and threw me off, resulting in me landing on my head. But I'm stubborn and went looking for solutions to better my relationship with him.
At the end of his career we could do anything any recreational rider should be able to do, except that with Zenghi everything had to be taught. He now enjoys his retirement life in my back yard.
Bronco
Bronco van de Molenstede is my Shetland stallion. I've had him since he was 1 year old and we have a really good connection.
My original purpose was to go to demo's with him, which is why he knows so many little tricks (and enjoys showing these off).
His primary job today is being a garden ornament and ocasionally trying to convice Capitaine he is the leader of the pack. Capitaine, having lived 5 years in an actual herd in the wild, isn't easily impressed by a 70cm tall stallion.
Workshops summer 2020 
2 September 2020
Enthusiastic participants this summer during the workshops "Starting with clicker training" and "Body awareness for riders". Both corona proof of course.
Would you also like to organize this in your stable? Do not hesitate to contact me.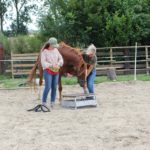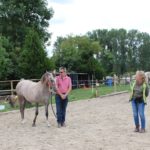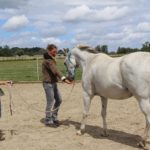 HorseBoostCamp (15, 16, 17, 18 October 2020) 
2 September 2020
Mid October a HorseBoostCamp is taking place. This is a clicker training docamp organized by Inge Teblick where, in addition to Inge, there are also a number of guest teachers (including me 😉). 
All practice places are full, but those who want to participate as an observer are still welcome.
More info
Centered Riding Open Clinic (21 and 22 November)
30 April 2020
A Centered Riding Open Clinic is open to all riders of all levels and disciplines. This will be given by Margreet Bouwmeester (level IV, the Netherlands) and will take place in PCT in Koningshooikt.
More information : centeredridingbelgium@gmail.com
Minimum 1 Open Clinic is a requirement for those who want to follow the instructor course.
And further :
2 September 2020
-Capitaine and I are now focusing on Working Equitation. This seems like an ideal discipline in which we can combine dressage and clicker training. Of course we also want to do all this from our center.  I'm wondering how it will work out. 
–Centered Riding Belgium is busy making short films about the 4 basics of Centered Riding. Soon there will be some episodes around breathing available for free. Keep an eye on the website and facebook.
Due to coronavirus delayed but not canceled :
2 September 2020
-the Centered Riding update from late April 2020 with Peggy Brown will take place in April 2021
– the 16th Equitation Science Conference, scheduled to take place at Hartpury University in the UK in August 2020, has been postponed for one year. I am already registered for the 2021 edition.
ISES is an organisation that aims to foster research into the behaviour, training and management of horses to improve welfare and the horse-human relationship. During 3 days researchers, practitioners, students, veterinary professionals, equine organisations and industry leaders from across the globe are going to talk abouts what's new around the theme of "Succeed with Science". You can find more info about this seminar here.
–Wallonie Equestre Event will not take place this year
["error","The access token could not be decrypted"]
Keep me posted about updates

(We won't spam you, promised.)