Horse's Mind was born out of a hobby of mine. The result of a passion for horses and teaching others. I'm a recreational riding who values good riding skills and having a good connection with your horse. I enjoy spending time with horses, both with my feet on the ground as with me riding on their back, so much so that it has now become my primary occupation.
Here you will find an overview of all the courses I've followed.
Follow me on Facebook to see what I'm doing and read the articles I share.
Groundwork & Clickertraining
I will explain you how you can teach your horse various things while you are besides him with your feet on the ground. For this I use the classic horsemanship techniques of pressure and release. To that I add in clickertraining. With clickertraining the desired behaviour gets marked with a specific signal. The horse then knows that after said signal he will get a treat. This technique is an extremely powerful tool to tell your horse what it is you want him to do.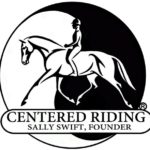 Centered Riding is based on the teachings of Sally Swift. It's an alternative way to give riding lessons where the focus lies on the rider instead of the horse. Through an increased awareness of yourself and your horse, and through the use of imaginary things happening around and in you you will learn exactly what to do with your body and when. This is something "good riders" do out of their own instincts, but is hard to explain.
Since November 2017 I am officially recognized as a level 2 Centered Riding instructor.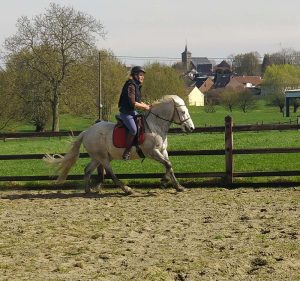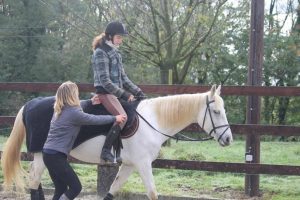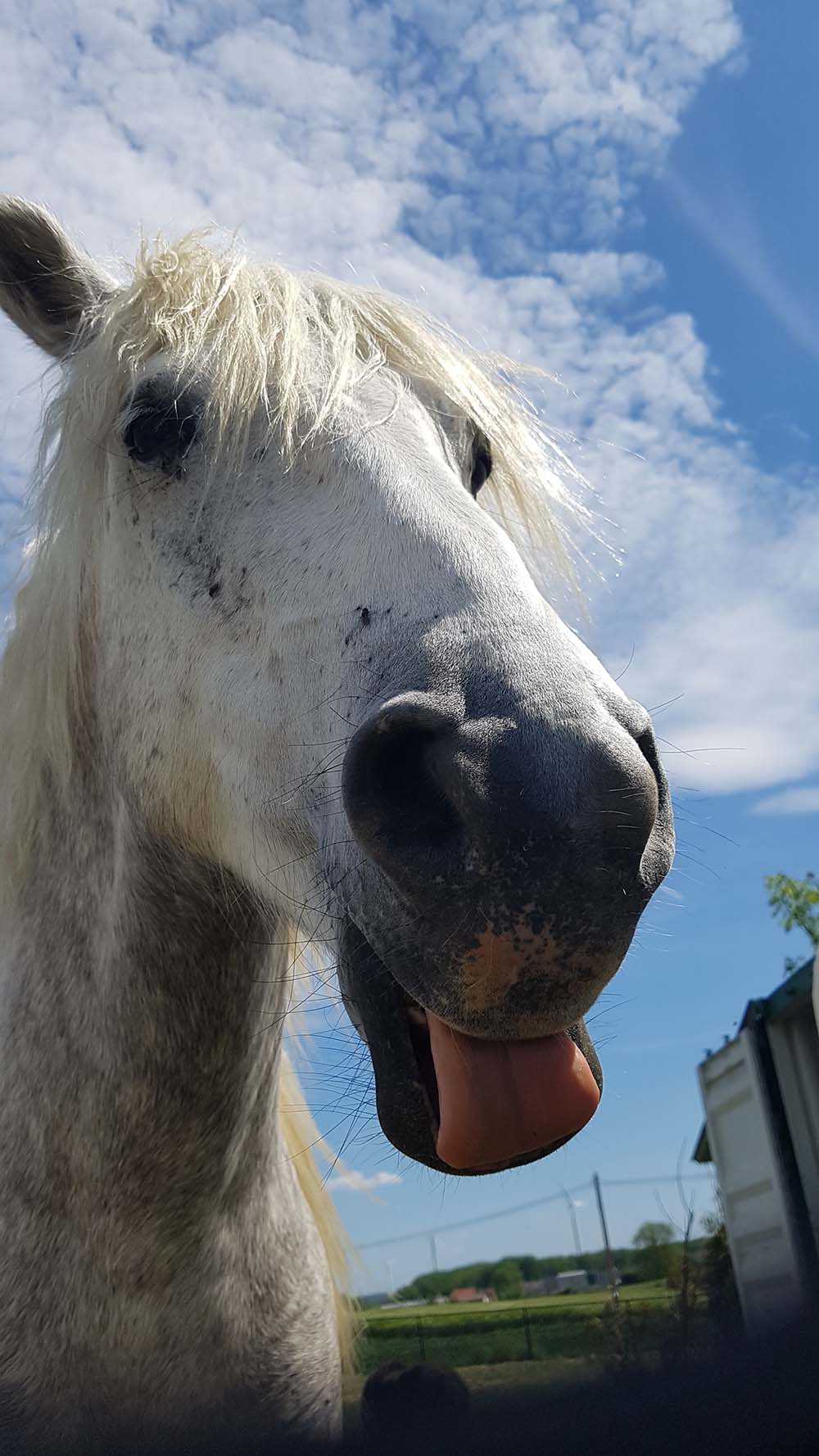 Capitaine
Capitaine du Pous is a horse from the French Camargue region born in 2013. Until he was 5 years old he lived in total freedom in the swamps nearby Arles. Since May 2017 he lives with me.
He was saddlebroken here and together we are discovering the world. He's a fast learner, is very curious and despite the calmth in his head he is pretty forward. An easy horse you'd think, but he doesn't let himself be fooled around : an unfriendly rider will be thrown off without warning. With calm guidance however he will go anywhere for you.
Capitaine was the model for Horse's Mind's logo. His name is in honor of another Camargue horse who was named Capitaine aswell, who played with Fernandel in the film "Heureux qui comme Ulysse".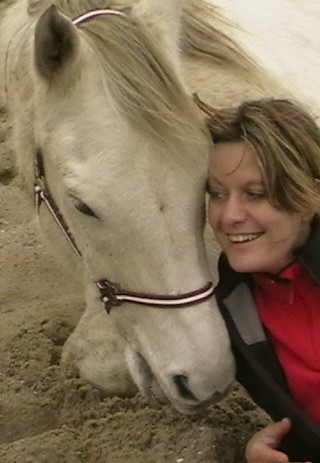 Zenghi
Zenghi is a halfblood Arab horse. born in 1997 and is the reason why I can do the things I do today with horses.
He's is an enormous drama queen, clumsy, hypermobile, and panicky. There was a time where everyone declared me insane for no selling him, especially after he reared and threw me off, resulting in me landing on my head. But I'm stubborn and went looking for solutions to better my relationship with him.
At the end of his career we could do anything any recreational rider should be able to do, except that with Zenghi everything had to be taught. He now enjoys his retirement life in my back yard.
Bronco
Bronco van de Molenstede is my Shetland stallion. I've had him since he was 1 year old and we have a really good connection.
My original purpose was to go to demo's with him, which is why he knows so many little tricks (and enjoys showing these off).
His primary job today is being a garden ornament and ocasionally trying to convice Capitaine he is the leader of the pack. Capitaine, having lived 5 years in an actual herd in the wild, isn't easily impressed by a 70cm tall stallion.
Workshops  
14 January 2023
If you have the necessary infrastructure, the workshops "Starting clicker training (1 day)" and "Body awareness for riders" (3 hours, possibly supplemented with riding lessons afterwards) can also take place on location.
Both require a space (room, hangar, etc.) where we can work sheltered from the weather conditions.
If there are riding lessons, horses and a riding arena are of course required.
A paddock is ideal for the practical part of the clicker training workshop, but it also works well in a riding arena or a large stable.
More info: francoise@horsesmind.com
Planning :
14 January 2023
-in 2023 we will first try to get all our online classes for the ClickerAcademy filmed and then we will spend time guiding people during the practical weekends and the Q&As
-But I also want to continue to enjoy my fantastic horse : we are planning a number of trips and will also participate in a number of Working Equitation competitions this year
ClickerAcademie
 14 January 2023
Together with a number of colleagues, we have joined forces to pass on all our knowledge about horse-friendly training (positive reenforcement) in a structured and practical way in the form of a (2) year training. We look at learning theory, scientific insights, and we pay a lot of attention to your own training skills and 'the creature horse'.
From this year we will go completely online with a number of basic modules that build on each other (structure: see below), supported by a number of Q&A moments. You can then supplement this with practical weekends.
Further information and registration on the site of the ClickerAcademy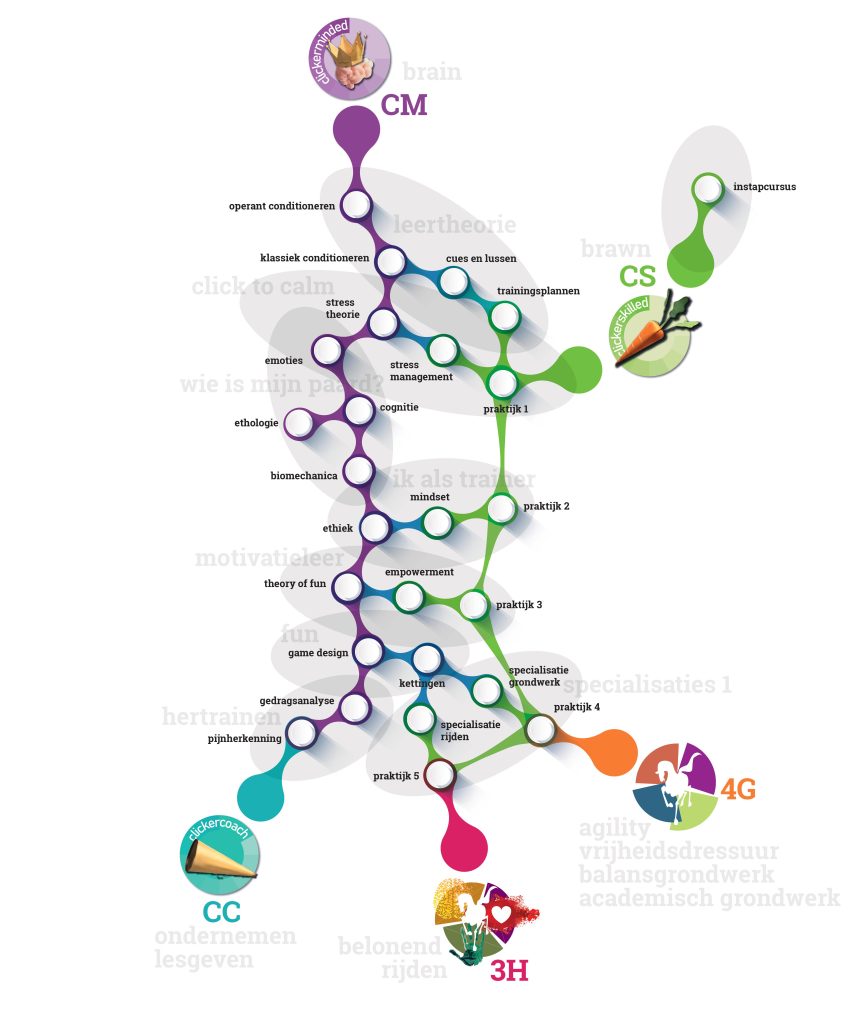 ClickerAcademie
13 januari 2023
Samen met een aantal collega's hebben we de handen in elkaar geslagen om al onze kennis rond paardvriendelijk trainen op een gestructureerde en praktijkgerichte manier door te geven onder de vorm van een (2) jaaropleiding. We kijken naar leertheorie, wetenschappelijke inzichten, en met hebben veel aandacht voor je eigen trainingsvaardigheden én 'het wezen paard'.  
Vanaf dit jaar gaan we  volledig online met een aantal basismodules die op elkaar voortbouwen, ondersteund door een aantal Q&A momenten. Deze kan je dan  aanvullen met praktijkweekends.
Verdere info en inschrijven op de site van de ClickerAcademie
3H Belonend rijden 
14 January 2023
3H consists of various online modules (structure: see below) around preparation on the ground, getting on the first time, explaining basic aids, working towards horizontal and vertical balance in a playful way, shaping yourself from an independent to influencing seat while not losing yourself and your horse. The course assumes that you have experience with clickertraining. You can immediately purchase the entire package and receive more guidance, or work at your own pace. Each online module includes a monthly online Q&A classroom.
The 3H (Head, Heart, Hands) is an initiative of Inge Teblick and replaces the HorseBoostcamp.
The intention is that Inge, Roos (Bijleveld) and I join forces and each from our own point of view, help you further with your driving in a positive way. 
3H is a collaboration between Inge Teblick, Roos Bijleveld and myself. Inge focuses on how to train something so that it is clear/fun/meaningful for the horse. (Head part)
Rose ensures that you continue to feel yourself and the horse (Hart)
And I make sure with my Centered Riding approach that you have your body in order because riding is a mechanical skill. (Hands)
Further information and registration on the site of the ClickerAcademy

Keep me posted about updates

(We won't spam you, promised.)