Horse's Mind was born out of a hobby of mine. The result of a passion for horses and teaching others. I'm a recreational riding who values good riding skills and having a good connection with your horse. I enjoy spending time with horses, both with my feet on the ground as with me riding on their back, so much so that it has now become my primary occupation.
Follow me on Facebook to see what I'm doing and read the articles I share.
Groundwork & Clickertraining
I will explain you how you can teach your horse various things while you are besides him with your feet on the ground. For this I use the classic horsemanship techniques of pressure and release. To that I add in clickertraining. With clickertraining the desired behaviour gets marked with a specific signal. The horse then knows that after said signal he will get a treat. This technique is an extremely powerful tool to tell your horse what it is you want him to do.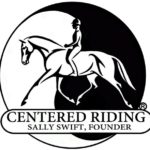 Centered Riding is based on the teachings of Sally Swift. It's an alternative way to give riding lessons where the focus lies on the rider instead of the horse. Through an increased awareness of yourself and your horse, and through the use of imaginary things happening around and in you you will learn exactly what to do with your body and when. This is something "good riders" do out of their own instincts, but is hard to explain.
Since November 2017 I am officially recognized as a level 2 Centered Riding instructor.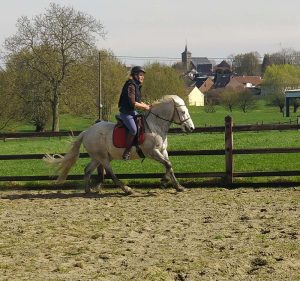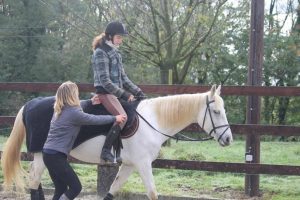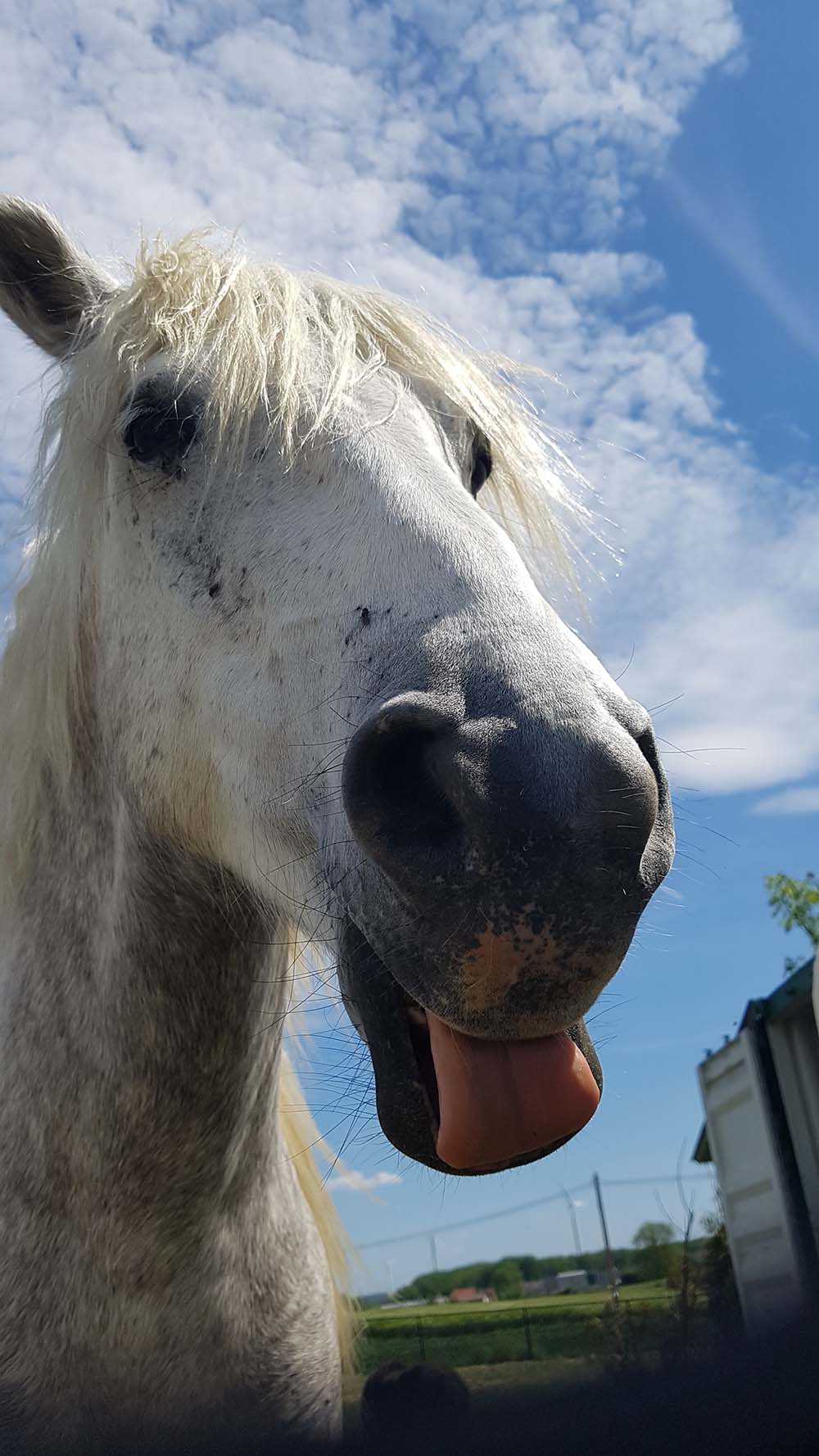 Capitaine
Capitaine du Pous is a horse from the French Camargue region born in 2013. Until he was 5 years old he lived in total freedom in the swamps nearby Arles. Since May 2017 he lives with me.
He was saddlebroken here and together we are discovering the world. He's a fast learner, is very curious and despite the calmth in his head he is pretty forward. An easy horse you'd think, but he doesn't let himself be fooled around : an unfriendly rider will be thrown off without warning. With calm guidance however he will go anywhere for you.
Capitaine was the model for Horse's Mind's logo. His name is in honor of another Camargue horse who was named Capitaine aswell, who played with Fernandel in the film "Heureux qui comme Ulysse".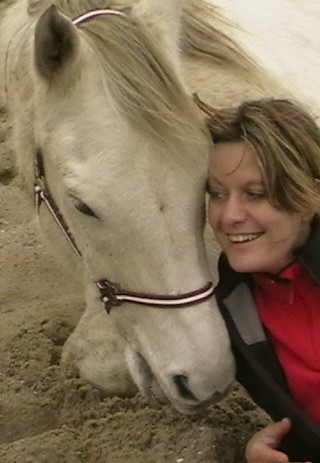 Zenghi
Zenghi is a halfblood Arab horse. born in 1997 and is the reason why I can do the things I do today with horses.
He's is an enormous drama queen, clumsy, hypermobile, and panicky. There was a time where everyone declared me insane for no selling him, especially after he reared and threw me off, resulting in me landing on my head. But I'm stubborn and went looking for solutions to better my relationship with him.
At the end of his career we could do anything any recreational rider should be able to do, except that with Zenghi everything had to be taught. He now enjoys his retirement life in my back yard.
Bronco
Bronco van de Molenstede is my Shetland stallion. I've had him since he was 1 year old and we have a really good connection.
My original purpose was to go to demo's with him, which is why he knows so many little tricks (and enjoys showing these off).
His primary job today is being a garden ornament and ocasionally trying to convice Capitaine he is the leader of the pack. Capitaine, having lived 5 years in an actual herd in the wild, isn't easily impressed by a 70cm tall stallion.
Corona times 
18 December 2020
These are uncertain times. That is why I just wanted to clarify what position I take in this crisis. I prefer to see this virus disappear as soon as possible, therefore government rules are followed. Often these general rules still have to be interpreted for equestrian sports, so in concrete terms I follow the advice of Paardensport Vlaanderen for my lessons in Flanders and of the Ligue Equestre Wallonie Bruxelles for my activities in Brussels and Wallonia. So if you want to know how things are at any time, use these websites as reference.
Currently it is the case that :
Riding lessons in an outdoor track are allowed (max 3 people)
Groundwork lessons (1 on 1) can continue, but only if a mask is worn by both parties and a safe distance is kept. Groundwork lessons are also not given in spaces that are too small (not in a box, for example)
Clinics are canceled
Although I have already had corona, it is still possible to get infected a second time and pass on this ugly bug. So let's be careful.
Workshops  
18 December 2020
This summer 2 workshops were organized at my home : "Starting with clicker training" and "Body awareness for riders". 
Whether there will be workshops next summer depends on the sanitary situation (corona) and the demand for workshops.
These are possible workshops that I can organise at my home:
Clickertraining (starting or advanced)
Body awareness for riders
Alexander Technique
Feldenkreis
Thai Chi
If you are interested in following one of these workshops in July or August 2021, please let us know. It will be organized if there are enough participants.
Because I teach everything about clicker training and body awareness myself, these workshops can also take place at your stable, if you can warm up some friends for this. More info: francoise@horsesmind.com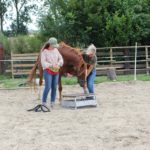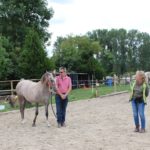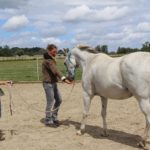 Keep me posted about updates

(We won't spam you, promised.)